Sunday, October 6, 2019
to
Friday, October 11, 2019
Sunday: 8:30 and 10:00 a.m.;
6:00 p.m.

Monday - Friday:
morning and afternoon services
The Family Prayer Center
1818 W 86th Street
Tulsa, OK 74132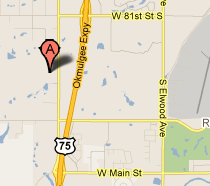 Dave Roberson Ministries provides a free shuttle service to and from the church for guests staying at the Crowne Plaza Tulsa Southern Hills Hotel.
If you would like to use the shuttle van, please check the appropriate box on the registration form along with providing the first and last meetings you will be attending. The shuttle service starts Sunday morning and ends after the last service on Friday.
Shuttle schedules will be included with registration confirmation emails.
Download Mail-in Registration Form
I cannot attend the conference - Is there a way to listen online?

We are not able to provide live streaming of the services, but MP3 files will be available after the conference for free download at www.daveroberson.org. You will also be able to purchase CDs or MP3 discs if you prefer.

Can you provide me with a letter of invitation?

Due to tightened security concerns, we are unable to provide letters of invitation to people we do not personally know.

What can I do if I have young children who can't stay in the sanctuary for an entire service?

Although we do not provide childcare, we do have nursery rooms for children ages five or six (first grade) and under. An adult must remain in the nursery with the child, but the rooms are set up so that you can continue to hear and watch the service.

Is there a place for nursing mothers to feed their children?

Yes, we do have a nursing mother's room with comfortable seating and changing tables.
If you have any additional questions, please see the FAQ section at www.daveroberson.org. You can also call The Family Prayer Center office: (918) 298-7729, Monday - Thursday, 12:30 p.m. - 4:00 p.m. CTZ or email us at: [email protected]
2020 Prayer and Power Conference
"I do desire to fellowship with you, to guide you beside the still waters, that I may teach you those places of quietness free from care and strife that you might know My voice. For there is true worship that comes from the heart of a man that not many have entered into, a pure vein. It is a place where I lift you up and you are caught together with Me in heavenly places of inheritance and authority, a place where your senses come under subjection to My anointing."
You are invited to attend our upcoming Prayer & Power Conference. These meetings are more than just a time of learning and gaining knowledge of the Word of God. It is a time for the Lord to make His Truth come alive in us, for Him to speak to the Body of Christ corporately and to individual lives.
Whether you are called to one of the five-fold ministries or you hold another valuable position in the Body, the Lord wants to speak and minister to you. He wants to answer the questions you have held in your heart. He wants to equip, train, and give you the tools you need to fulfill what He has called you to do. He loves you and He wants you to know His love beyond a shadow of a doubt.
Travel and Hotel Information
We recommend Spears Travel to help you make hotel, airline, and car rental arrangements.
Spears has blocked rooms for this conference at the Crowne Plaza Tulsa Southern Hills Hotel, located across the street from Oral Roberts University. The Crowne Plaza is within walking distance of several nice restaurants and shops and also provides a shuttle service to and from Tulsa International Airport. You must make reservations through Spears Travel to receive the group rate at The Crowne Plaza which includes breakfast and allows cancellations up to 48 hours prior to arrival. Dave Roberson Ministries provides shuttle service between the Crowne Plaza and the church.
If you have your own transportation, Spears Travel can help you choose from a variety of hotels in the area.
Call or email Lynn at Spears Travel at: 1-918-254-1608 or [email protected]
Monday - Friday, 8:30 a.m. - 5:00 p.m. (CTZ)
Other nearby hotels include:
Hampton Inn & Suites - 2.06 miles away
7004 S Olympia Ave , Tulsa, OK 74132 US Website (918) 340-5000
Marriott-Tulsa Southern Hills - 4.17 miles away
1902 E 71st St, Tulsa, OK 74136 US Website (918) 493-7000
Holiday Inn Express Hotel & Suites Jenks - 4.28 miles away
150 Aquarium Drive, Jenks, OK 74037 US Website (918) 296-7300
Best Western Glenpool/Tulsa - 6.20 miles away
14831 S Casper St, Glenpool, OK 74033 US Website (800) 780-7234
Online registration is now closed. Please register at the registration table at the conference. Thank you.